Note: I'm pulling strictly from Canon for this, though I don't know whether or not this is going to be allowed. If the Passive Ability and the Gate Abilities are a problem, I can pull them out and not worry about it. I'm just trying to be true to the game.
Name
: Healing Wind Garment Grid
Type:
Garment Grid
Element:
Cure
Effect:
Allows Yuna to equip up to three Dresspheres and shapeshifts into the form of the appropriate weapon for the Dressphere used should she activate one. The first Dressphere is in the upper left position, the second in the lower position, and the third in the upper right. Changing from one Dressphere to another takes a single post and requires a post between changes. Changing into a Dressphere also incurs any costs related to that Form (such as AP).
Passive Ability:
Allows Yuna to Cast Cure, though she must wait at least 3 posts between uses.
Gate Abilities:
Changing from Dressphere to Dressphere opens up pathways on the Garment Grid. The first Gate allows her to Cast Cura with a 5 post cooldown. The second Gate allows her to utilize Curaga with a 7 post cooldown. In order to unlock the Gate the Form changes must take place in the same thread. The Garment Grid is reset between threads.
Range:
Varies depending on the Dressphere which is activated on the Garment Grid at a given time.
Appearance:
When not activated through the use of an attached Dressphere (kinda like a Form in a crystal bead), the Garment Grid is a plate that attaches to the back of a fingerless glove of soft black leather worn on Yuna's right hand. The plate has places for each of the Dressphere beads to be inserted and there is an engraved image on the metal of the plate behind the lines and circles of the working parts. When a Dressphere is activated then it transforms into the weapon which is associated with that Form.
Picture: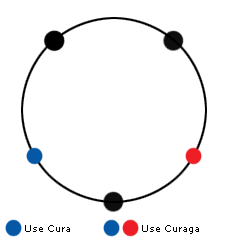 ==============================
Level Group 100 -- Also answers to Grizz or Tira
High Summoner of Spira
"So, this is my life now, we travel from place to place and the days just seem to fly by... But sometimes, I find myself stopping... I'm listening for your whistle."